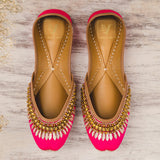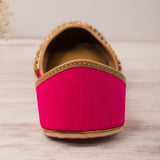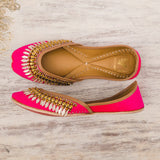 Book An Appointment
DISCLAIMER : Product color may slightly vary due to photographic lighting sources or your monitor setting. Please note that delivery timelines will be extended due to the onset of COVID-19
Speak bold, speak confidence, speak charisma! Introducing an exclusive design from the House of Vian – Spider Lily – that speaks for itself! The bold gold chain adorned on this striking pink chevron textured fabric is definitely a winner for this pair. This jutti is inspired from BDSM Couture that uses chains, spikes and metallics as their key elements. We have delicately row by row embroidered gold beads, a bold gold chain and gold spikes running in circular motion that pleases the eyes yet catches your attention! You just cannot miss out on this one!!
Fabric Detail :
Upper - Chevron Textured Chanderi Silk
Embellishment - Antique Gold Chain with beads and sequins. Lining & Pure Leather Sole. Comes in a Dust Bag & Vians Luxury Shoe Box.

In case of any queries , please call/WhatsApp us at:+91 9667779502 
Wash Care : Keep in Vian Dust Bag provided, Wipe with wet cloth. Embellished accessory needs to be handled with care.
Delivery Time : 4-6 Weeks
Speak bold, speak confidence, speak charisma! Introducing an exclusive design from the House of Vian – Spider Lily – that speaks for itself! The bold gold chain adorned on this striking pink chevron textured fabric is definitely a winner for this pair. This jutti is inspired from BDSM Couture that uses chains, spikes and metallics as their key elements. We have delicately row by row embroidered gold beads, a bold gold chain and gold spikes running in circular motion that pleases the eyes yet catches your attention! You just cannot miss out on this one!!

Fabric Detail :

Upper - Chevron Textured Chanderi Silk
Embellishment - Antique Gold Chain with beads and sequins. Lining & Pure Leather Sole. Comes in a Dust Bag & Vians Luxury Shoe Box.


In case of any queries , please call/WhatsApp us at:+91 9667779502 

Wash Care : Keep in Vian Dust Bag provided, Wipe with wet cloth. Embellished accessory needs to be handled with care.

Delivery Time : 4-6 Weeks
CUSTOMISE YOUR ORDER