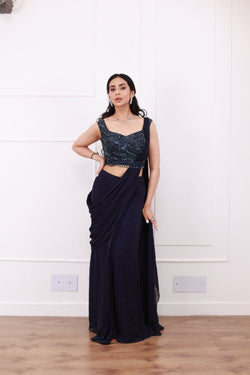 Book An Appointment
DISCLAIMER : Product color may slightly vary due to photographic lighting sources or your monitor setting. Please note that delivery timelines will be extended due to the onset of COVID-19
Featuring A Blue Drape Saree In Net Flatchiffon And Net Blouse With Cutdana, Sequins, And Bead Embroidery. It Is Paired With Matching Net Blouse And Belt.
Additional charge for XL, 2 XL, 3 XL, 4XL, 5XL and 6XL : XL - 10% Of MRP 2XL - 15%Of MRP 3XL-6XL - 20%Of MRP
Color  : Blue
No. of pieces in a set : 3
FIT( Loose, Fitted, Relaxed, Fitted at Waist, Fitted at Bust,Fitted at Hip) : Fitted
Available in Other Colours: (Reference Neelam Shade Card) :  Available
Fabric Composition : please list all. If blend, please list % : Flatchiffon, Net.
In case of any queries , please call/WhatsApp us at:+91 9667779502 
Instructions: Dry Clean only
Delivery Time : 4-6 Weeks
Featuring A Blue Drape Saree In Net Flatchiffon And Net Blouse With Cutdana, Sequins, And Bead Embroidery. It Is Paired With Matching Net Blouse And Belt.

Additional charge for XL, 2 XL, 3 XL, 4XL, 5XL and 6XL : XL - 10% Of MRP 2XL - 15%Of MRP 3XL-6XL - 20%Of MRP

Color  : Blue

No. of pieces in a set : 3

FIT( Loose, Fitted, Relaxed, Fitted at Waist, Fitted at Bust,Fitted at Hip) : Fitted

Available in Other Colours: (Reference Neelam Shade Card) :  Available

Fabric Composition : please list all. If blend, please list % : Flatchiffon, Net.

In case of any queries , please call/WhatsApp us at:+91 9667779502 

Instructions: Dry Clean only

Delivery Time : 4-6 Weeks
CUSTOMISE YOUR ORDER