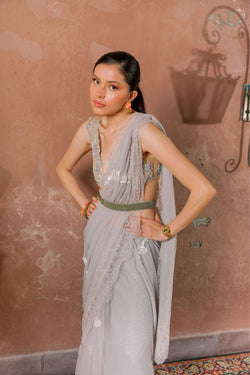 Book An Appointment
DISCLAIMER : Product color may slightly vary due to photographic lighting sources or your monitor setting. Please note that delivery timelines will be extended due to the onset of COVID-19
Crop - Nude tulle that creates an illusion of skin with a lace underlay, hand embroidered asters, lilacs, freesias with blue floss, beads, and pearls. Sari - A serenity gray tulle hand embroidered with baroquial motifs and roses in white silver floss, french knots, bullions, beads and white pearls with a scalloped french lace edge. Belt - A sparkly silver bugle beads belt.

Fabric:  Silk, lace ,stretch net
Embroidery: Hand embroidered with french knots, silver silk floss,bullions, bugle beads and pearls embroidery.
In case of any queries, please call/WhatsApp us at:+91 9667779502

Instructions: Dry Clean only.
Delivery: 5-7 weeks
>
Crop - Nude tulle that creates an illusion of skin with a lace underlay, hand embroidered asters, lilacs, freesias with blue floss, beads, and pearls. Sari - A serenity gray tulle hand embroidered with baroquial motifs and roses in white silver floss, french knots, bullions, beads and white pearls with a scalloped french lace edge. Belt - A sparkly silver bugle beads belt.


Fabric:  Silk, lace ,stretch net

Embroidery: Hand embroidered with french knots, silver silk floss,bullions, bugle beads and pearls embroidery.

In case of any queries, please call/WhatsApp us at:+91 9667779502


Instructions: Dry Clean only.

Delivery: 5-7 weeks

>
CUSTOMISE YOUR ORDER